Today we ventured past the Spanish steps to the subway. There weren't too many tourists since it was still a weekday, which was part of our rational for going to the Vatican today.


The area is so beautiful. There is something wonderful about the old architecture and all of those cobble streets.


As always the subway didn't disappoint. There are always so many beautiful designs and patterned tiles. I really appreciate the urbanness of it.

When we arrived in Vatican City, I instantly noticed clergymen and women walking around the area. Some appeared to be tourists, while others looked as if they were conducting their daily business. And then we came to Piazza San Pietro. Talk about grand!


The area was really immense. It's also crazy to think this building is from the 4th century. It's even crazier to think that St. Peter, one of Jesus' apostles, is buried under the Basilica and was the reason it was built. Coincidentally it's also the largest Christian church in the world. Stefan kept comparing it to Allianz Arena since they both hold roughly 60,000 people.



We noticed the line to enter the Basilica was moving along rather quickly, however we had 11:00am tickets to the museum, so we couldn't take advantage of that just yet. When we arrived at the museum we were once again surprised to find short lines, even though we were able to bypass them with our tickets.


The museum is rather ridiculous and opulent. It really made us ask a lot of questions about the Catholic church, their wealth, and their secrets.



Every ceiling was better than the next and they were so elaborate and carefully thought out. Many of the rooms were crowded, so I can only imagine what it's like during high tourist season. There were so many beautiful things to see and it took quite some time to walk through and admire this extensive collection.

We were awestruck as we looked at pieces - from mummies and Egyptian works to sculptures and paintings by the masters: Da Vinci, Raphael, Titan, Caravaggio, and of course Michelangelo. Impressive doesn't even begin to describe it. And then we went into the Sistine Chapel.


This is the only time throughout the museum that we felt as though we were slightly herded through - or at least packed in, since we could linger. Due to a filled chapel, I didn't notice the sign saying that photography wasn't permitted. There were people with video cameras blatantly filming and taking photos. I was doing the same until I realized I wasn't supposed to. Oops! The second picture I took by placing my camera on the floor with the self timer since I didn't have a tripod... I wasn't trying to be sneaky. We did the same thing at the Pantheon and the results were perfect.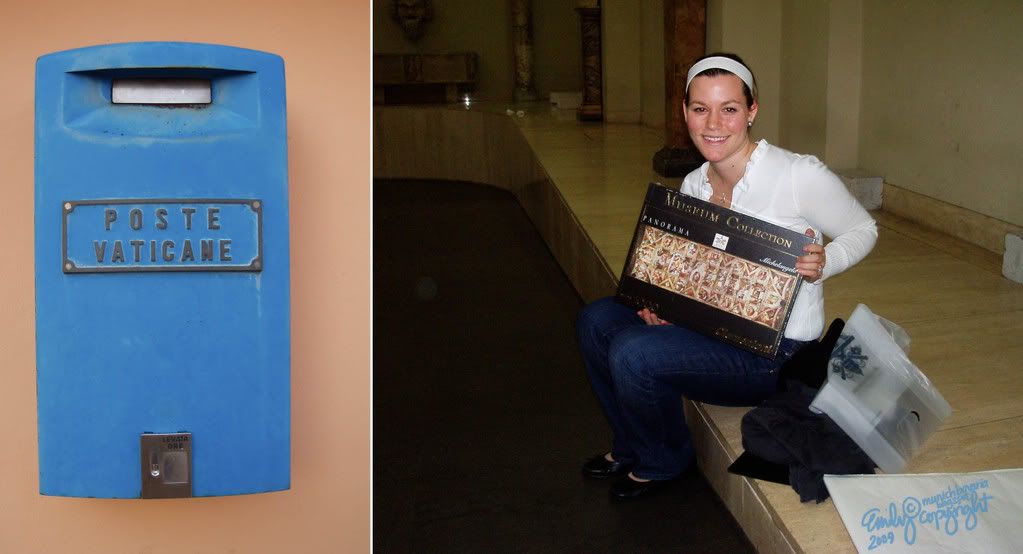 On our way through the museum we passed several makeshift gift shops that were set up. I noticed a puzzle of the Sistine Chapel and instantly thought of my Grandma, who absolutely loves puzzles and always complains she can't find much variety. We decided carrying a puzzle through the entire day would be a bit much. Then, as we were sending our post cards from the Vatican Post Office (which is reputed to be faster than Italian mail), we got the idea of sending one from there to surprise her. The unfortunate thing is they didn't have boxes large enough to fit it, so we had to break the box down before putting it in the mailer. I'm really looking forward to hearing what she thinks, because I know she'll be very surprised.



After spending a large part of the day at the museum we decided to wait in line for the Basilica. Lucky enough we were behind a group of young American girls who were trying really hard to be cultural. We almost lost it when we heard one of them say, 'It's just like Disney World - they just try to herd you in and out.' I'm embarrassed for this girl and clearly understand why Americans are given a bad wrap when I hear things like that.

After going through a bit of security we walked into the Basilica. I quickly noticed the Pieta to the right. The entire basilica was very ornate. There were so many details. Stefan deciphered most of the Latin for me while I tried to take in every last detail.

I love how every detail seems like it was meticulously planned. Rome, and the Catholic church in this instance, definitely enjoyed displaying their wealth. And the talent of the artists is so impressive and surreal. In situations like this I think of our new found love of building for the moment and not for posterity.

The sculptures are glorious and knowing how much time and skill was invested to make them makes me appreciate all of it that much more.


I would love to see what a modern day Leonardo da Vinci or Michelangelo would create, especially considering they could create so much without using our modern technology.



Again, so much detail was shining down from above. The ceilings and domes with the ornate details, colors, and patterns sparkled in the sunlight. The entire basilica had a warm glow to it, which was very inviting.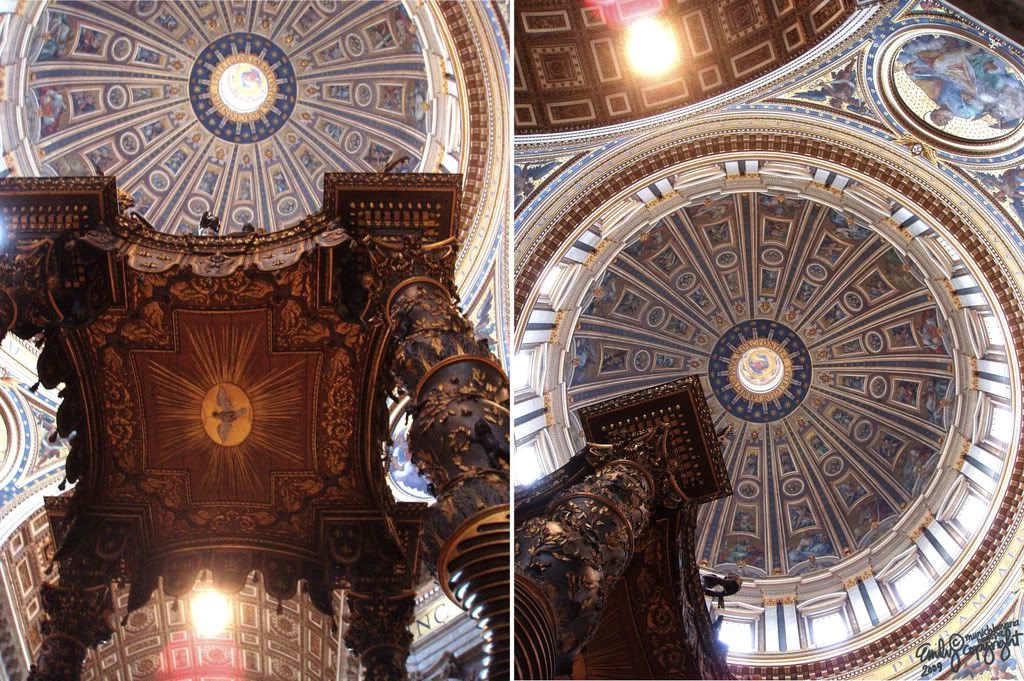 The baldacchino over St. Peter's resting place is 98 feet of bronze. I can't even imagine how long it took to plan and bring to fruition, especially with various men working on it. I'm sure they had conflicting ideas as to how it should be done.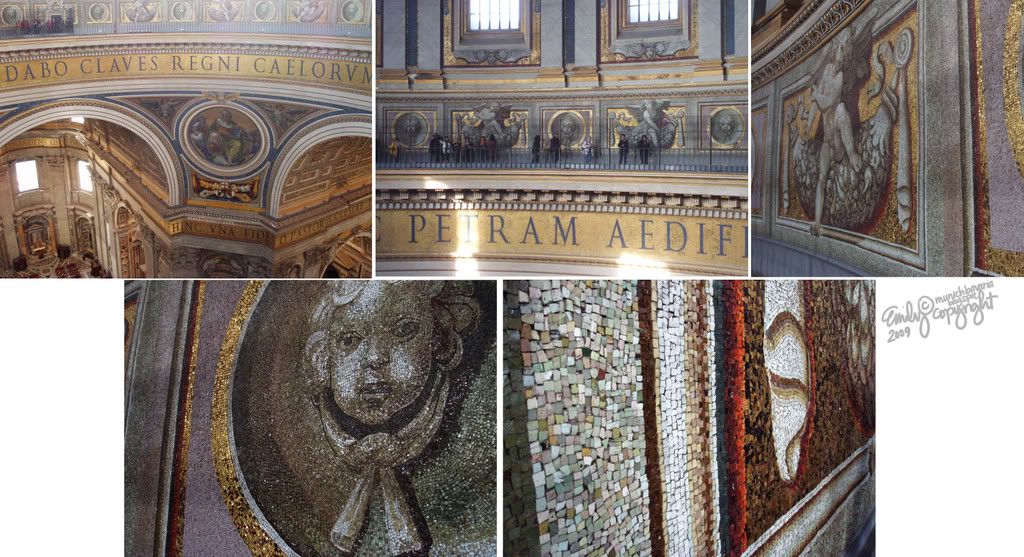 Next, we opted to be slightly lazy when visiting the cupola by taking the elevator and then walking 300+ steps, as opposed to a few hundred more. Once we arrived at the narrow walkway around the cupola designed by Giacomo della Porta and Fontana, we noticed all of the mosaics. In several of these photos you can see the scale in comparison to a person. Unreal.


Once we arrived at the top we could see the fantastic reward and beautiful panoramic view of the city. It struck me just how small Vatican City truly is. I can understand how the Holy Roman Empire continues on and on once we tried to pick out the ancient ruins in the distance. Coincidentally I also learned that the black and gold flags in Munich represent the Holy Roman Empire. I also get a good laugh out of fully understanding that Salzburg aspired to be 'Rome of the North'. Those are some pretty big shoes to fill!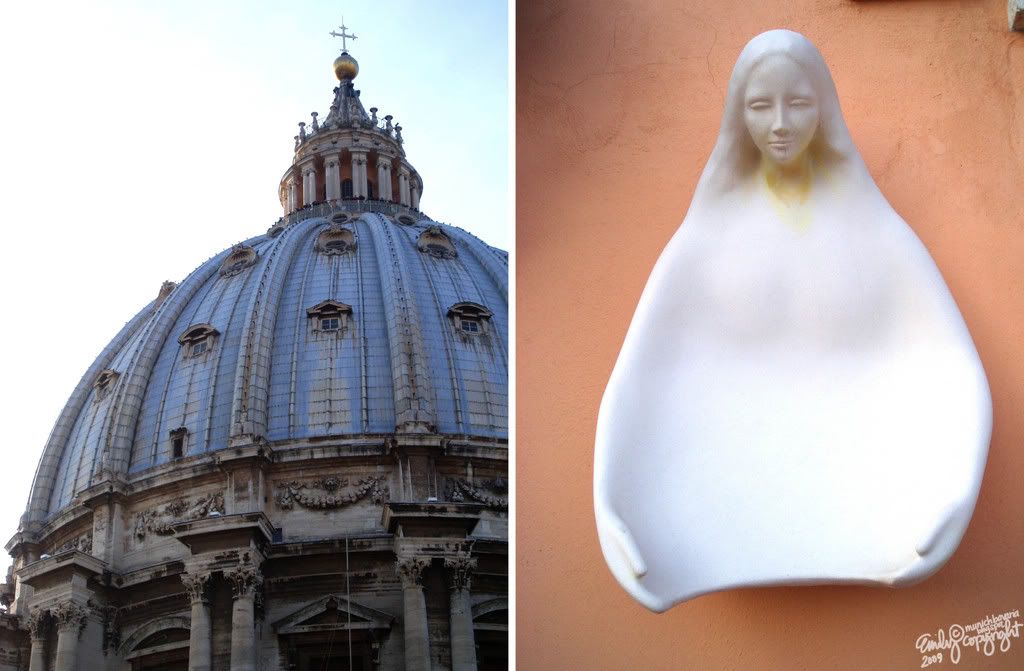 There was another viewing deck and of course gift shop, on a lower level roof. I loved the curving lines of this rather androgenous religious figure. So very pretty! After climbing high we decided to go into the crypt and see Pope John Paul II's grave. It was quite moving, especially since there were so many nuns praying in front of it. It also allowed us to get a closer view of St. Peter's burial place.


After a rather long day at the Vatican we continued walking on towards Castel Sant'Angelo and the Angel's bridge. At this point I would have really appreciated having a subway nearby, but every time they work on constructing more they run into ruins and must excavate. Walking for 8-9 hours each day is a lot. Thankfully there was more gelato along the way. The dark chocolate was my favorite.


We walked back to the subway at dusk and then decided that we would stay closer to our apartment for dinner. I will write a separate post about that, because we had a very pleasant surprise.