Along one of our afternoon drives we visited Gordes, which is a popular city due to its picturesque cliffside terraces and homes.

While it is a charming city, it is better viewed from one of the nearby view points to get the full effect.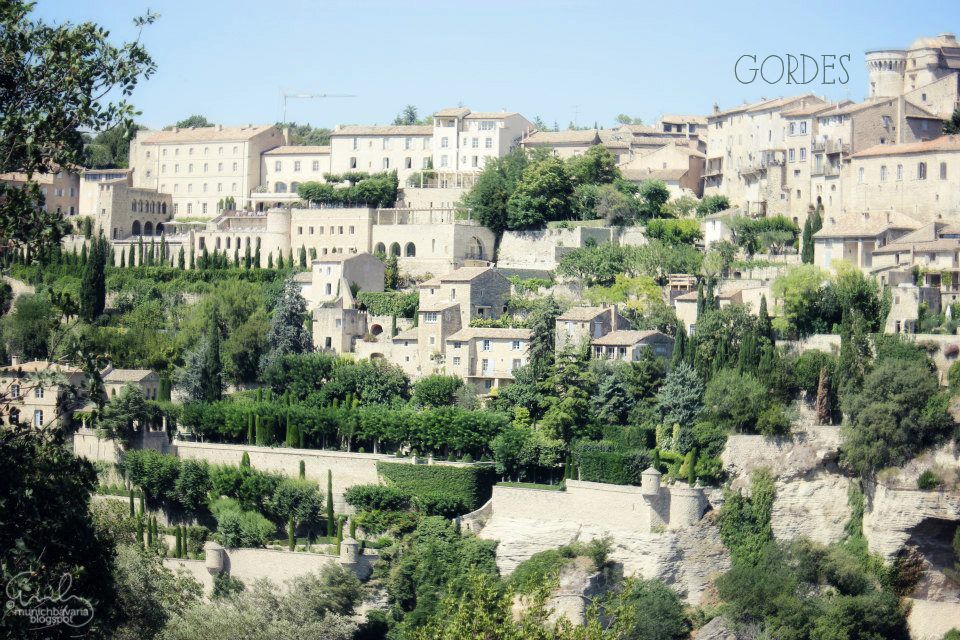 I
mpressive, right?

Not far away and down another very steep hill is the Abbaye de Sénanque, which is one of the most photographed lavender fields. We seemed to have arrived at the perfect time - between tour busses and when the light was shining in just such a way that it appeared to be glowing.
As we walked through the field we noticed the subtle hum that is the background noise of the insects hard at work. I also read to be cautious of snakes hiding at the base of the lavender plants, however we didn't see any during our visits to several fields.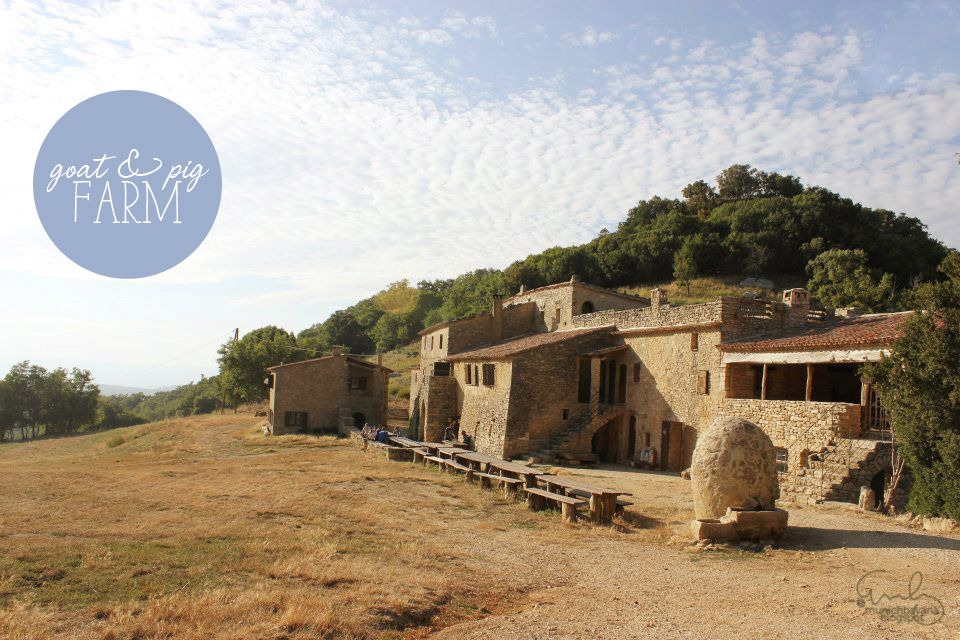 We concluded our day with one of the most spectacular meals at a working goat and pig farm. It was a communal style dinner with about 20 guests.
I was anxious to see how this would work out, because I had called for reservations several weeks prior. I stumbled through my broken French only to discover the man on the other end spoke Italian, as he uttered "Mama Mia!" and promptly handed the phone to someone else. Struggling to get through the it without hysterically laughing at how ridiculous a phone call without a common language is, I said, "Treize" and then "Tredici - Tray-dee-chee!" as Stefan looked on. We hoped for the best and considered asking our native speaking friends to make reservations next time.
It was all worth it in the end, because hidden down a dusty dirt road is this adorable little place. We were fortunate that one of our fellow dinner mates was a German woman who speaks nearly every language under the sun so she was able to give us some history on the place. It just so happened she was a writer for a French men's fashion magazine years before and had done a piece about the farm. She fell in love with Provence and later moved to the area.
Evidently the owner came from Southern Italy with next to no money and stumbled upon this place, which was in ruins. At that time the French government was heavily subsidizing farmers, so he was able to purchase it for 1 franc, provided he would raise animals. She claimed he was a real ladies man and that the quality of both the home and food changed depending on the woman in his life.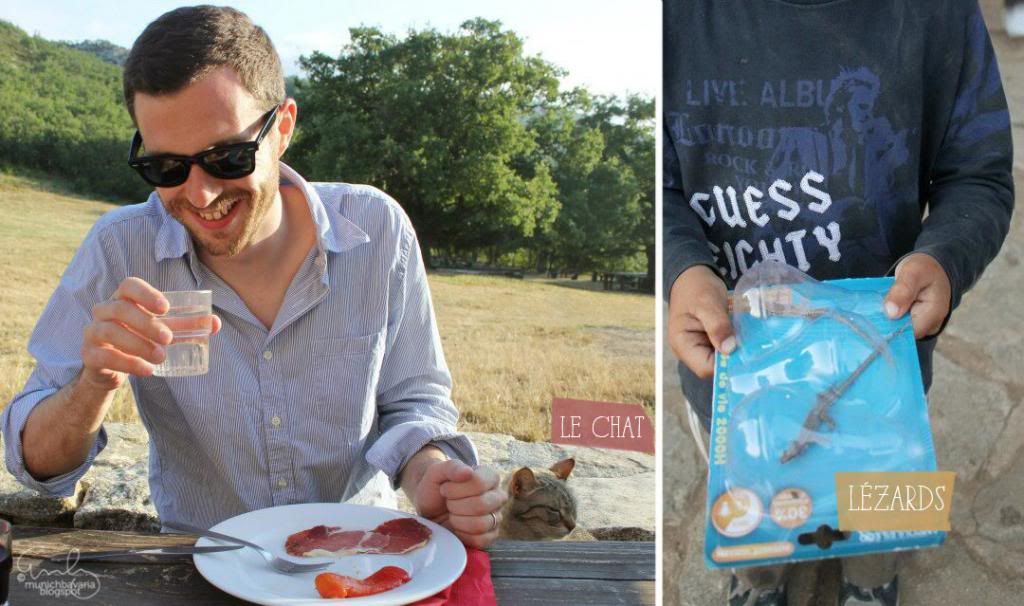 The whole thing was very much a family affair, complete with a couple of little boys pulling up a seat to enjoy their dinner alongside guests. Stefan also had a dinner companion in the form of a cat who sat carefully perched next to him on the bench, which I found comical given how well he and cats usually get along.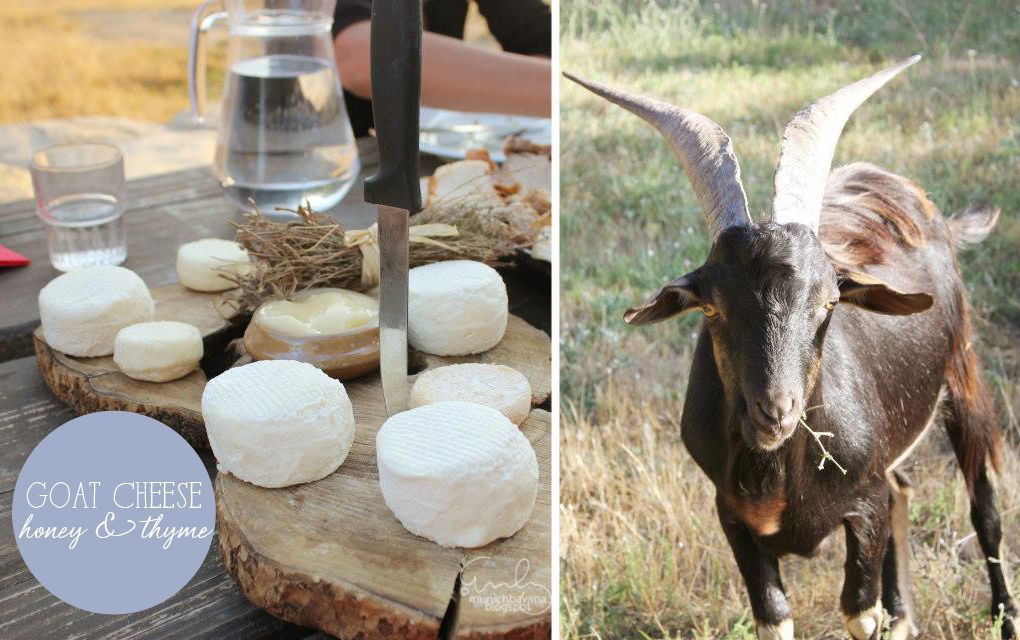 The meal consisted of endless sangria, red wine, bread, paprika peppers, ham, pork, potatoes, three types of goat cheese, and tiramisu for 30€. The goat cheese was absolutely incredible and I ate way more goat cheese than I care to admit, however I still dream about it to this day.
As the night went on, and the red wine was flowing, people were getting more talkative. The former magazine editor was curious about us and assumed I was the German and Stefan was from the US.
One of the farmer's grandsons was showing me two lizards he had caught in a small package and chasing kittens around until a couple of foxes arrived in hopes of rounding up some table scraps. The German woman was fearful the foxes would take a kitten, so she and her partner ended up taking one home.
We arrived back to the village with some pre-Bastille day festivities going on just around the corner, so we joined the fun with some music, Pernod, and red wine. Apt comes alive with their Saturday market, so we were able to go to sleep and have it waiting at our doorstep the next morning.
It was one of those incredible days that only solidified my love for the area that much more.