Munich is such a special place and I can never quite figure out my favorite season here. Summer means hanging out with friends along the river and grilling or visiting biergartens, which is the perfect way to spend a lazy weekend day.
Since we love rules here in Germany, there is a city ordinance of
where grilling is permitted in Munich
. They even created a great
map
, which is useful so you don't end up getting fined.
Son of Hibatchi
- Our friend Roman introduced us to this grill and it is genius. It heats up in 15 minutes and actually gets warm enough to grill on. It's compact and portable, too. We absolutely love it.
We use
Weck
jars to transport and store things, but for dish wear it's sometimes cumbersome to bring actual plates, so paper plates,
biodegradable dishes
made from palm leaves, or even
edible dish wear
are a good alternative.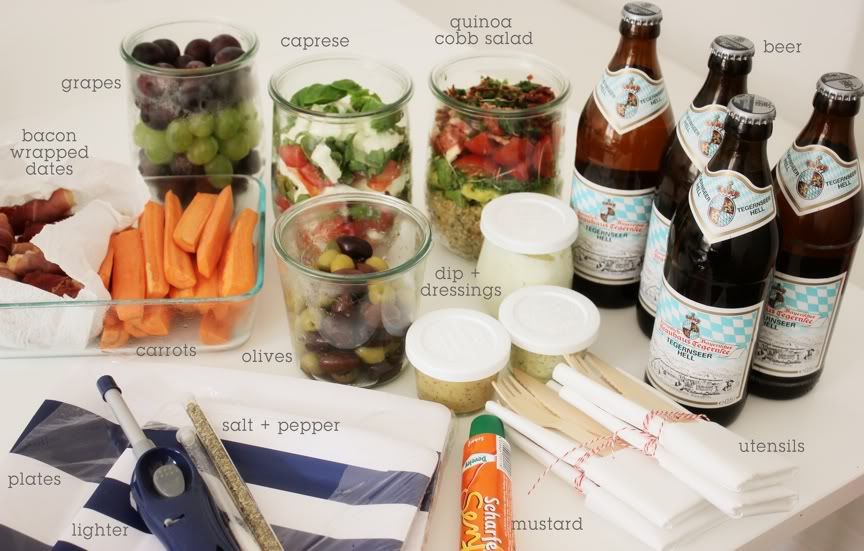 Here are some food ideas to bring:
- Insalata Caprese
- Potato Salad
- Olives
- Cheese cubes
- Bacon wrapped dates
- Crackers + dip
- Crudité
- Fruit Salad
- Chocolate chip cookies
- S'mores - My Americanness is coming through, but s'mores and cookouts go hand in hand. The best place I've found good marshmallows is actually the home goods store Butlers. As for the graham crackers we use the
Vollkorn Leibniz
.
(I like to add some knister/pop rocks chocolate to add something unexpected.)
- pre-made cocktails if you're feeling luxurious. The smaller weck tulip glasses are perfect for this.
One more tip: If you like
Bon Appétit magazine
and have an ipad, you can send a subscription to someone in the US and they can give you the digital version, which is what I did with my mom. It has plenty of great recipes and food stories at your finger tips.