We set out early in the morning for Fatehpur Sikri. I was surprised to see so many people sleeping virtually everywhere along the roadway. At times it was difficult to look past the poverty to see the beauty of the culture. I kept dwelling on how the poverty could permeate, what it has to do with caste, and how education and tradition collide.


Other interesting things along the journey included: a 'frozen semen bank', children tending to new born goats at the side of the road, and a misunderstanding with our driver - he was saying 'Germany flying back', but it sounded like 'Germany playing dead' and we couldn't figure out what he was talking about. He kept repeating it.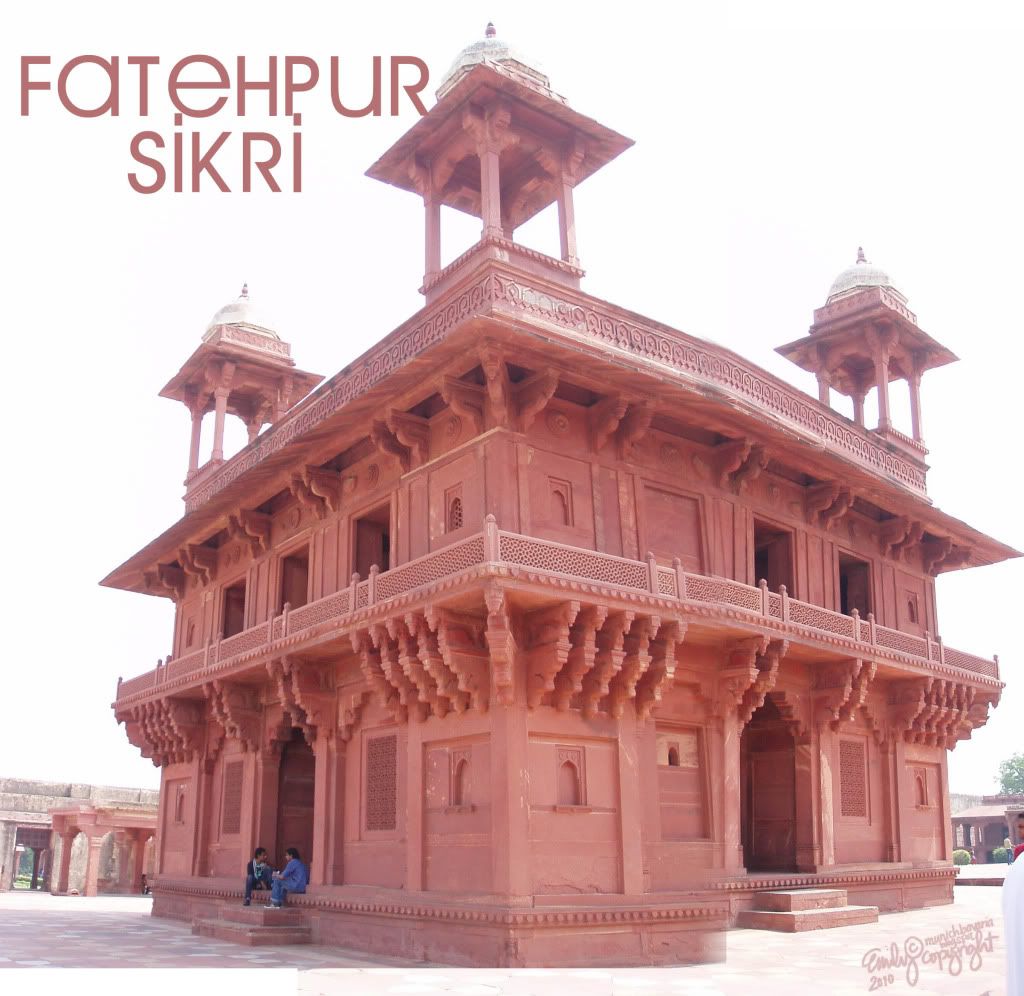 Our final guide was picked up right before we reached Fatehpur Sikri. As soon as he heard that I also give tours he was going on and on about things he thought we'd have in common. Unfortunately having the same profession is where the similarities stopped.

He kept welcoming us to his home and saying if he visited us that we'd treat him the same and that in the Hindu faith a guest was like a God and therefore we should be treated accordingly.

Then he started with some emotional blackmail about how difficult it was being a guide and supporting everyone. He could not believe that I don't get commissions from taking tourists to my favorite places and he felt that I should at least get lunch at a restaurant. The surprising thing was he said he received only a 2% commission from the places he took tourists, which converted is basically 5¢ on $1 USD.


Random notes + photos:
- From Fatehpur Sikri to Agra we passed many fields of wheat, millet, and potatoes. Closer to the city center is dense smog.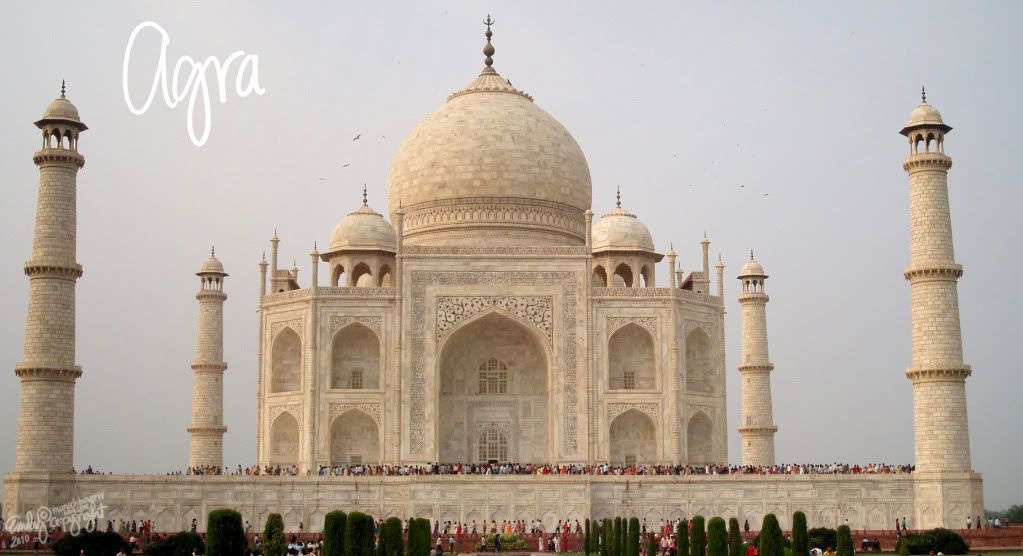 - Agra totally thrives on tourist money from the Taj Mahal. In some ways it's good - for example they are trying to cut down on emissions in the area, and therefore people are shuttled to the area. In other ways it's bad - the people are forced to depend on tourists, because 70% of production was moved elsewhere to cut down on the emissions.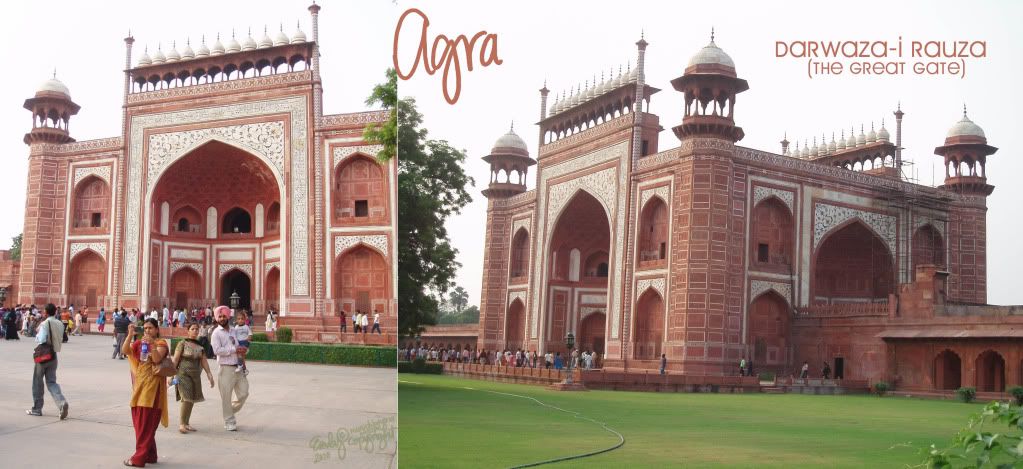 - The double pricing is so steep at the Taj Mahal that foreigners are charged 750 rupees ($15 USD) vs. 50 rupees ($1 USD) for locals.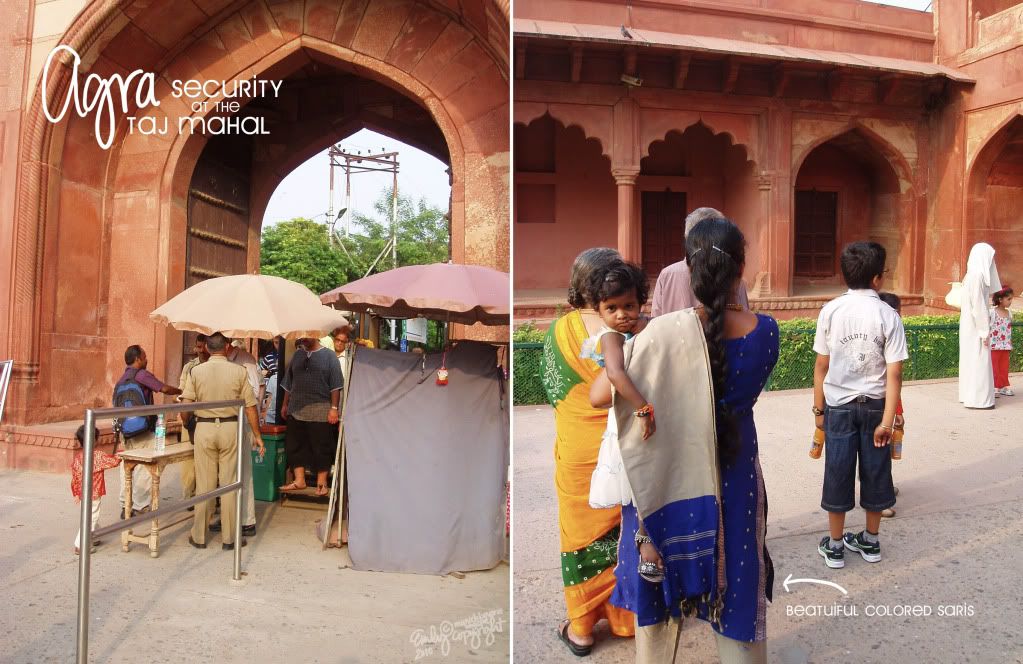 - There is an enormous list of things that are not permitted at the Taj Mahal, including: gum, anything with a USB, books, ipods, lighters, video cameras, and tripods.


- We arrived during a Hindu holiday, so there were tons of families. It took us by surprise when so many people wanted their photos with us. People would literally grab our arms and at one point an entire family surrounded Stefan. I could not stop laughing as I saw them migrate his direction to include him in their family photo.


- The Taj Mahal really can't be captured in photos. It's definitely a striking piece of architecture that glows. It looks like a painting from afar.


- Seeing all of the colorful saris reminded me of confetti. I love the clothing and how it looked against the stark white marble or against the green grass and red pathways.



- Our guide was a bit over the top in wanting us to get photos taken. He suddenly turned into photographer and was racing around from the perfect vantage points. We have some very kitschy photos.

- We were given shoe covers to help preserve the marble.


- The line to get into the Taj was enormous and we definitely didn't have time. We peered into the cut marble to see inside and then ventured to the back and went in the exit. I felt awful doing so, but I preferred doing that as opposed to using the foreigner excuse and skipping people as our guide suggested.


- There are beautiful gemstones inlaid into the marble and the man power and work that was required to built it is certainly a testament to love. It required 22,000 people and 22 years to complete.


- We really struggled with people instantly thinking that we were rich. It's difficult, because the standards of living are so different as are our priorities and opportunities.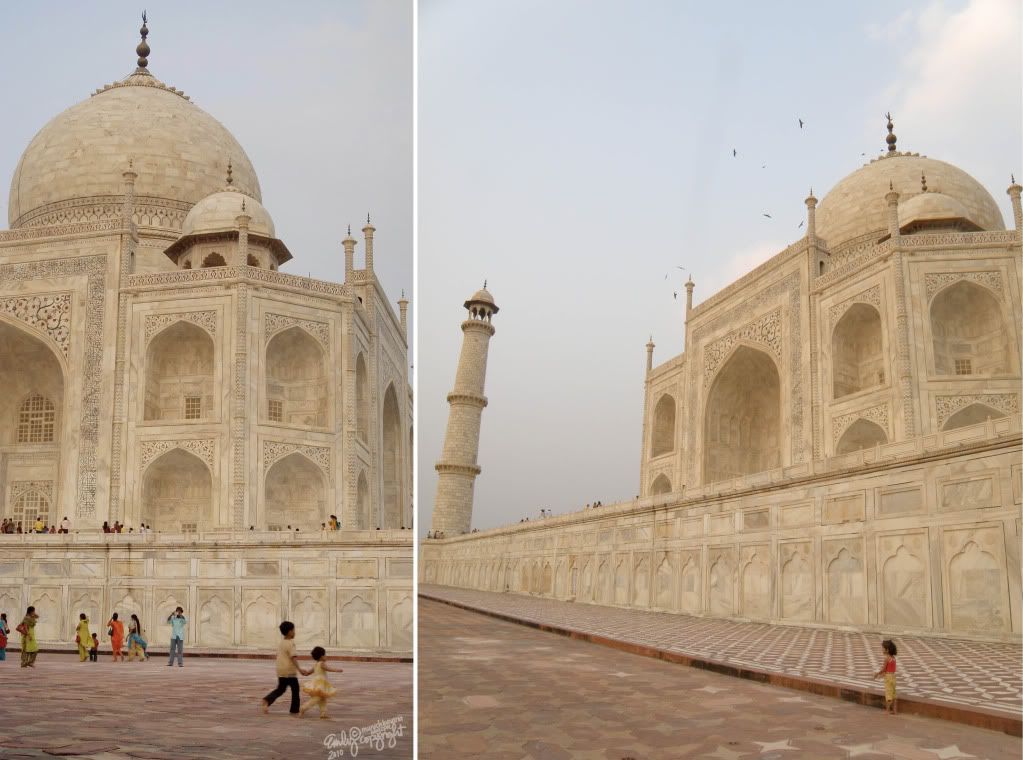 - The begging street children typically targeted me, I assume because I'm a woman, while the sales people always went to Stefan. It's interesting to see that dynamic.


What is your view? Is it fair to charge guests differently, simply because people can afford it? Tourists are using and abusing their resources, yet the thought of charging foreigners more money here would be considered discrimination. Is it redistribution of wealth and therefore, OK?