Our second day in India was spent touring both New Delhi and Old Delhi.

We were promptly picked up by our guide, Lalit, and our driver. Lalit thanked us for coming to New Delhi, because it's really not much of a tourist city.


The first stop we made was to visit the Parliament House / Rajpath, which reminded me of a mix of Paris, Washington DC, and India. I'm sure it was due to the regal architecture, sprawling mall area, and the red sandstone.


We stood outside of Rashtrapati Bhavan (the President's house) and suddenly realized the school children that were surrounding us were more interested in us than the President's house. Clearly Lalit was right about the city not seeing many tourists.

Other important monuments in the area are the India gate and Humayun's Tomb, which is a UNESCO World Heritage Site. The Mughal architecture of Humayun's Tomb is what the Taj Mahal was modeled after. Supposedly, when the Taj Mahal was planned to be built 2,199 architects were asked for plans. Upon seeing Humayun's Tomb, Shah Jahan decided he wanted to model the Taj after it, which was built in honor of his wife that had passed away. Humayun's Tomb, interestingly enough, was commissioned by Humayun's wife.

As we walked around the grounds of Humayun's Tomb Lalit called the stray dogs lions. They were basking in the sun and scampering around. Being someone that really loves dogs it's always interesting to me to see how people treat them around the world.


The light in India is beautiful and it's certainly a culture that loves color.

We quickly learned the school children weren't the only one that were interested in us. Lalit had no hesitations in asking us all kinds of questions - how we met, what we did for work... and then I asked if he was married. His response took me by surprise, but also summed up a bit of the Indian culture.

He responded that he and a young woman, who lives in Auckland, met and they fell in love, but due to arranged marriages he wasn't able to marry her. Without skipping a beat he said, 'perhaps in a next life'.

There are so many aspects of the culture in India that I find fascinating. The Hindu faith, the arranged marriages, caste systems, the transfer of jobs and the telecom boom, and why exactly is there so much poverty. What's interesting to note is that divorce in arranged marriage is substantially lower than average.


After seeing New Delhi it was time for Old Delhi including the Raj Ghat (cremation / memorial site for Mahatma Gandhi) and the largest mosque in India - the Jama Masjid.


The best way to tour Old Delhi is by taking a ricksaw/rishka. Our driver was a frail looking older man, who frankly I hated to have drive us around in the sweltering heat. I found myself wondering if his old bike would hold our weight. Our guide told us to put our feet on a ledge and that was our seat belt. I was a bit nervous to enter traffic on the busy main roads, but I had to remind myself they are accustomed to this. He plowed through the crowds and dodged motorcycles, tuktuks, cars, and everything else as he took us through the various streets.

The ride was exhilarating. We wove through the Old Chandni Chowk market passing the themed areas: silver, wedding, paper, and sari/saree. It was certainly sensory overload. There were so many things to see and once again the people were also watching us. Funny how we are all curious about one another.


As we approached the Jama Masjid there were plenty of hawkers who wanted us to purchase so many things. Some of them were rather odd... a kama sutra book, a huge leather bull whip, bindi stickers for my forehead, and many books about the city. Everyone seems to be some kind of salesman with something for you to purchase.


We made our way up the sandstone steps and left our shoes before entering the mosque. It's customary to give the man that watches over your shoes a small donation. I couldn't believe my eyes when I saw young man from America making a scene. He was actually yelling at the man and saying that he would not give him a donation, because he wasn't told this beforehand. The whole situation seemed rather ridiculous to me, because we're talking pocket change, which sadly probably means a lot more to the Indian man.


I was surprised that I didn't need to wear a head scarf, yet even despite being very conservative dressed I was given a silk gown. We tried to find a bit of shade so we could hear more of the history of the area without standing in the intense heat and burning our feet on the warm pavement. The Islamic architecture was very beautiful.


After making our way back to our driver we thanked the rishka driver and I told him that we were sorry we weighed so much, but the food here is just too good to resist.

Lalit made reservations for us for lunch. Despite serving Indian food it was clear this was a restaurant that catered to tourists and Western tastes. He declined our invitation to join us, which we weren't sure if that was looked down upon or if he simply had other guides he'd rather join.


After lunch we visited the Laxminarayan Hindu temple, which was more interesting because we heard Lalit discuss his own faith. It's nice when someone welcomes you to look at their beliefs, how they practice, and to learn what it's about. This temple was built in 1622 and unfortunately cameras weren't permitted..

We stopped to take off our shoes and walked across the cold marble floor, stopping to touch the steps as we walked in.

Next we greeted Ganeesha (the elephant God) so that our prayers would be heard by the other Gods.


We again noticed the swastikas that we've seen throughout India. It's such a heavy symbol coming from Germany, although I know it's roots go back much further. In the Indian culture it represents wealth and prosperity. Unfortunately we were not able to take photos at the temple, but the various idols and colors were really striking. We left with our own red tilaka 'third eye'.


I loved one fresco image of a man and a dog. Lalit told us the story, which was about the Final Journey of Yudhisthira, who was a brave man on his journey to paradise. Along the way he crossed paths with a dog that was said to be thin and ugly. They were companions for the journey. Finally, at the gates Yudhisthira was told his mangey friend was not allowed to enter. The man decided if the dog could not enter nor could he after all that they had been through together. Just then the dog transformed into the god Dharma. That was Yudhisthira's final test and a bit of philosophy from ancient India.


We passed through an underground walkway where several people were trying to avoid the heat. A disabled man pulled himself over to us asking for money. It's shocking and disturbing to see people not having the resources for wheelchairs or other medical devices that would greatly increase their quality of life. Unfortunately this wouldn't be the last time we saw people living like this.


After visiting the Hindu temple we went to the Sikh Temple, which was less colorful, but equally as lively. I can't say I knew much about the Sikh faith before we visited, however I recognized the men instantly. One of their five pillars requires never cutting their hair (kesh), thus they wear it wrapped up on their heads and enclosed in a turban.


While walking to the Gurudwara Bangla Sahib area a little guy approached Lalit and asked if he could join us for tea. We didn't quite know what was going on, because we didn't speak his language. Lalit told him he could join us for a meal and he declined, which I found puzzling. I quickly understood why.

We left our shoes with the shoe minder and received a head scarf before we entered the gurdwara. The area is quite enormous and houses the temple, an art gallery, a school, a kitchen, and the holy pond that is said to be blessed by one of their Gurus and cures aliments like cholera.


One of the most inspiring things that I saw was the enormous Langar (kitchen area), which is where this small boy knew we were going. In the Sikh faith they believe in equality, regardless of race, religion, caste, creed, age, gender or social status. Not only that, they believe in providing selfless service to mankind, so Sewadar (volunteers) offer their services to the community without asking for anything in return. It is very inspiring, especially when you see the scale at which they are working.


The dining area of the Langar is set up reflecting the equality - everyone sits on the floor next to one another and eats the same meal. Meals are served twice a day and amazingly 50,000 people or more are served each day. You don't even want to see the dishes. I wish I could have taken a photo of the metal plates stacked so high, but I didn't want to disturb the diners.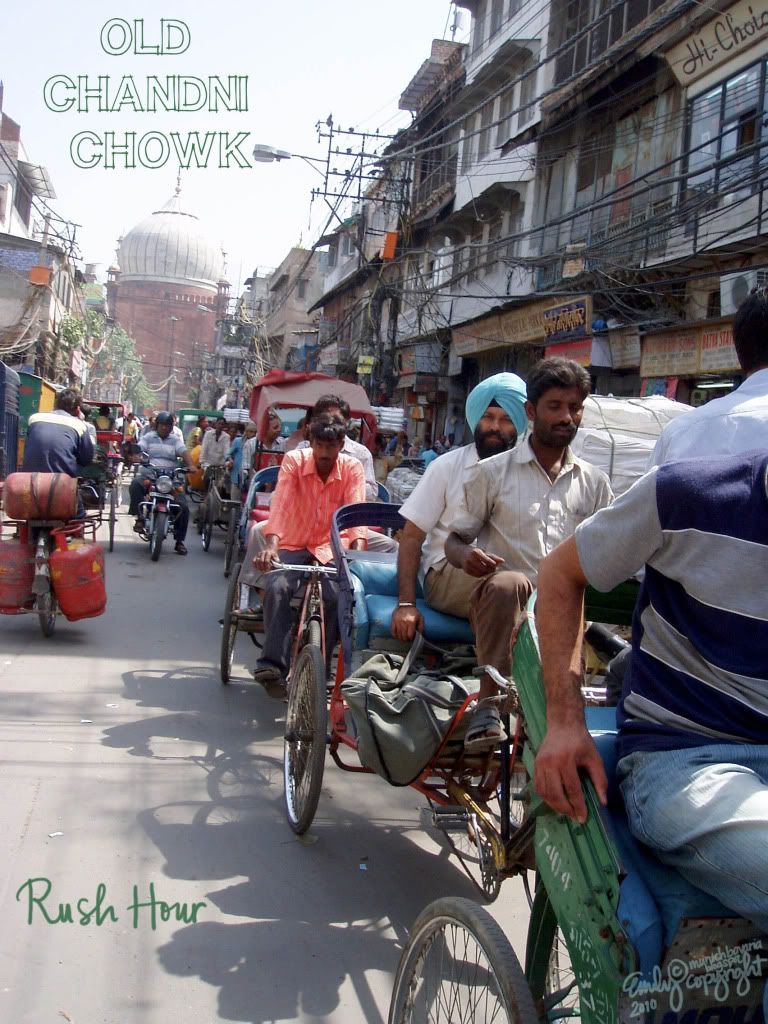 They definitely left me with Cherdi Kalaa (ever-rising high spirits), just knowing someone is working towards helping others.

We were understandably very tired at the end of our day. Thankfully we could settle in with room service. Things are very inexpensive in India. The most expensive item on the menu at our hotel was boneless chicken pakora for 300 rupees or roughly $6USD. We had also purchased 6 - 1 liter bottles of water and a bag of chips at a shop for only $2 USD.

The hotel also offered a day trip to the Taj Mahal for only 12€ a person. After we went to the Taj Mahal I cannot imagine going on a day trip, but the next day we were headed to Jaipur and it was one long haul.