This is one of the main tourist stops in Cairo. There is a lot of action going on at this souk with plenty of interesting to things to stop and look at, particularly if you don't mind haggling.

On our way to the market Rani warned us that the shop workers were good. He said they would take one look at us and know where we were from, as well as speak our language. I told him we'd have to give them a hard time and say we came from Iceland.

As soon as we walked down one of the busier streets someone greeted me with a 'Hey Signora/Señora' - I don't know if they thought I was Italian or Spanish. Rani told me they must be just learning. Later I got a good laugh out of a woman saying with the biggest American accent 'Hi how are you doing?'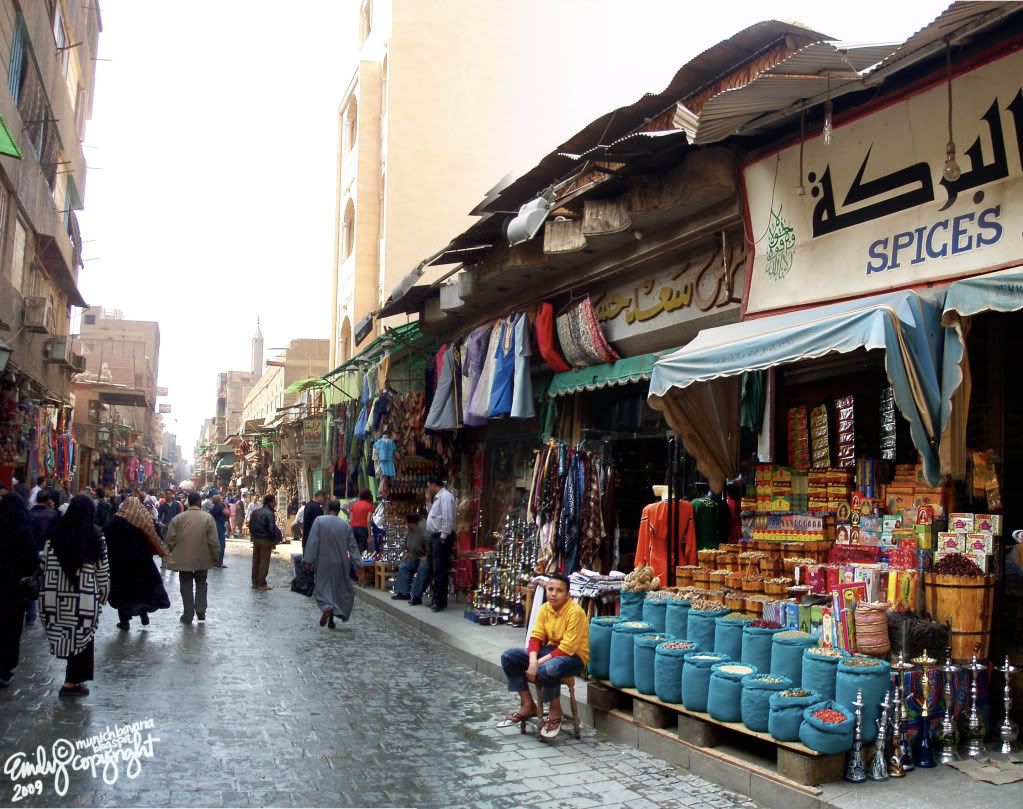 I would have really loved to spend more time at there. I saw so many beautiful things - from tunics and leather shoes to beautiful jewelry from semi-precious stones. There is also a beautiful and extensive spice market.

I don't mind the action of people trying to get business and keep things exciting. I realize some people find this intimidating or irritating, but I think it adds to the ambiance.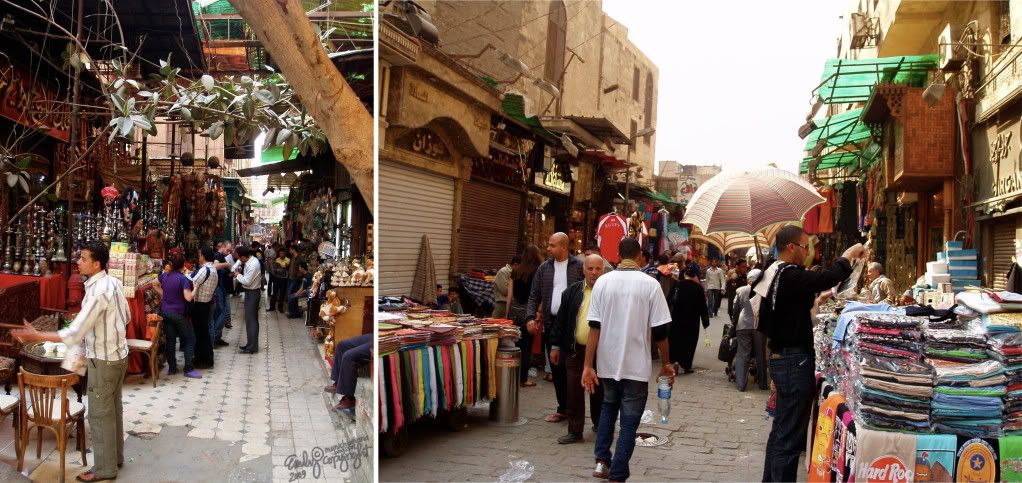 Not all of the market was hustling and bustling. There were quieter side streets and alleys. The winding narrow streets are very beautiful and several have gates from the middle ages.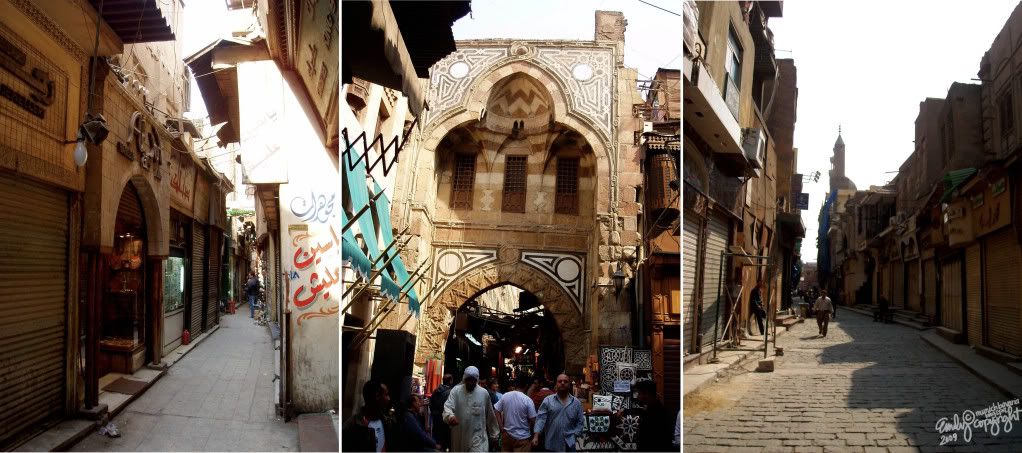 Different areas of the market serve different purposes, so you don't have to walk very far to find a large variety of cottons, souvenirs, or jewelry. We came for a little bit of shopping and also for lunch.



Rani bought us some falafels down a quiet side street. The only action was a few men smoking shisha and a few stray cats waiting around for discarded lunches. I never would have ventured there on my own and yet sitting in one of the shady side streets and sharing tea and falafels while Rani smoked some shisha was simply wonderful.


I'm also willing to bet I will never have a falafel that was so delicious in my life. One was only falafel with some vegetables, while the other had a bit of baba ganoush added to it. Both were more delicious and substantially cheaper than the Egyptian meal we had the night before.

I expressed some interest in getting a traditional galabeya / galabia gown after I saw one near the Coptic area that I liked. I love tunics in general, although I tend to go for plain ones, but I thought it would be nice to have something conservative to wear during future Mid-East visits.

We walked down the street and then I saw a shop that sold a variety of traditional clothes. I asked about a light gray galabeya and was told they were for men. So much for simplicity! He continued to pull out a variety of options and finally I saw one that looked simple enough, but was fit for a woman. Of course the one I chose was handmade, so it was more expensive, but still incredibly reasonable.



As I went to change Stefan and Rani began haggling. Initially the man wanted 300 LE, however Rani was helping Stefan barter. I laughed as the man told Stefan 'don't listen to him, this is between us!' After agreeing on 225 LE (less than 30€) Rani told us that you tend to get something free after you buy and that we should get something else with it.

Outside this shop was a spice display and Stefan said 'how about some spices outside?' Stefan or Rani suggested some saffron and then we learned the man that owned the tunic shop didn't even own the spice shop! The spice shop owner quickly appeared and he exchanged a few words with the man we had bought the dress from and then he gave us a small bag of saffron.


The only unfortunate aspect of the 'Khan' is that it's been a target for attacks, the most recent happening in February 2009 in the open plaza near the Al-Hussein Mosque.


On one street there were tourist police and they wanted to look in Stefan and Rani's bags. I offered to open mine and he kept saying 'no' and waving me through. Another tourist police said 'hebebe (sweetie) where are you from?' to me, which really surprised me, particularly because I was with men. I don't know what traveling here as a single woman would be like.

This is the largest souk in Egypt and it dates back to the 1380's, so I definitely think it's worth a visit. All of our friends that have lived there recommended that we check it out and I'm glad that we did. Rani said it's great to hang out there at night and then added around 2AM. I didn't realize they stayed up so late!

I'm looking forward to wearing my galabia on future trips. I've really wanted to get to Morocco, so hopefully we'll get to go sometime soon!