So it has been over a year since I began to call Germany home. There are definitely many idiosyncrasies that I am continually learning about. Whenever I have visitors I notice things more and miss those initial thoughts when I would ponder the smallest mundane detail such as a door knob that doesn't turn.

There are some things that Germans are known for, such as cleanliness, structure, being on time, cars, and engineering. I have to laugh when Stefan tells me about going on business trips and telling coworkers to 'stop being so German' when someone is 5 minutes late.

One thing that I do appreciate is the simplicity, design, and attention to detail. I think everyone that has visited and asked where to shop I have asked 'do you know anyone with a baby?' The reason is I absolutely love their baby toys made of bright colored wood, particularly a brand called Haba. They have produce, beads, and teethers. (I bought the flower teether for Emily's daughter Claire).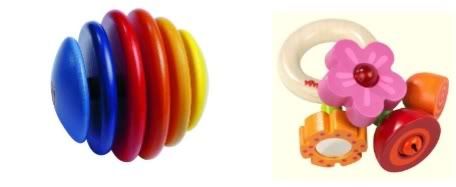 They are just so beautiful!

There is however, a large divide as well. You either have great quality or complete crap. Some of the stores I walk into and shudder as I see things that look so archaic and are yet still quite expensive. If I want to go into a time warp I can just walk into our attempt at a Meijer. It's unfortunate that we don't have something like Target that melds design and functionality into an aesthetically pleasing place. I guess Germans go with the adage of if it's not broke don't fix it. You know what you need you go to get it and you leave. Although, if you let a German loose in the US, (this was when the exchange rate wasn't even as good as it is now) you will see a child in a candy store and they are instantly converted into consumers.

I often look at many design websites and save images of things that I like so I can get what I want when I need it (maybe some of the German mentality is rubbing off on me!) I was surprised and excited to find this beautiful baby bed (don't get an ideas - we still want a few years being child free). The great part is that it not only grows with the child and is beautiful, but it also made in the Allgäu! It's comical for me to see it on all kinds of international design websites when it comes for the Allgäu. I think it will fit wonderfully into our simplistic and modern approach at decorating once it's time.




Lately we have been trying to figure out our next few years. It's a funny life that I never imagined I would lead. I feel like a nomad with a home base in two countries. I see my friends from home settling down and putting roots down, while my friends here are typically 30-35 and unmarried, but dating the same person for 6 or 7 years. Or I have the 50 something variety that are spunky and have fascinating life stories. There is something to be said about the way Europeans look at life and especially here in Germany with the most vacation days of any country in the world.

I truly couldn't ask for anything better in life. Even working here feels like early retirement!


images: haba + sirch