Our arrival into New Delhi was nice, but boy was it hot - already at the break of dawn. We were met with the heat, honking horns, and a bit of chaos. A definite welcome to India.

Reality check #1: Be prepared to sweat more than you thought humanly possible.

We didn't have to negotiate our way around the tuks, because we hired a driver for our stay before we left Munich. A guide and driver promptly met us and gave us marigold leis and bottles of water. That was a much easier way to soothe our jet lag.

Before I left I was constantly told the same words of wisdom about India, 'You either love it or you hate it', and 'Make sure you check your water bottle to make sure it is sealed and hasn't been refilled'.


On our way to our hotel we quickly saw things are very different. We saw what is supposed to become their subway system in anticipation for the 2010 Commonwealth Games, which are to be hosted in New Delhi. Throughout the next days we would constantly hear about it on the news, from our guides, and around the city. Everyone was excited and also a bit curious how things would come together.

Reality check # 2: Forgo any prior knowledge of what is safe and don't tell your Mom about it until you get home.

We were instantly struck at how odd it was driving into town, namely because the highways weren't highways like I know them. Instead any type of transportation was permitted, including animals, bicycles, and pedestrians. Safety was entirely different - often the cars would not have seat belts, seeing 4 or more people on a motorbike was considered the norm - and no one had a helmet on. Car seats for children and babies are nonexistent and they would often be riding on their parent's lap as they drove or sandwiched in and taking a nap to the gentle hum of the motor.


When we arrived at our hotel, in our jet lagged haze, it was culture shock to say the least. Our driver pulled up to our hotel and for a few minutes we actually didn't realize this would be our home away from home, off and on, over the next several weeks.


The hotel reeked of furniture polish when we initially arrived and then we were lead up to our room, which was a wonderful little oasis. We had a large shower area, wireless internet, and the ultimate luxury - air conditioning (we don't even have this in Germany!).

Everyone was very attentive to our every whim and everyone expected a tip as well. This is something else we had been warned about, however weren't entirely prepared for. You see when you convert money they don't often give you small bills, so it's easy to dole out very generous tips. Lesson learned - get small bills pronto!

We got acclimated to the noises and would peer out our window to the dusty street below. There was a small and colorful Hindu temple directly outside with a many visitors ringing a bell throughout the day. We heard the constant honking and from time to time cows mooing or dogs barking.

After resting up we decided to venture out. We had a 'park' in front of our hotel, although walking past was enough. We were armed with directions from the hotel and wandered into the middle of our neighborhood - Karol Bagh. As soon as we walked out the door the heat was absolutely stifling. I tried my best to not breathe in the humid air that was suddenly acrid as we passed open urinals on the street.

We left with a mission - to see the area, take some photos to send our parents, and to buy several bottles of water. The amount of attention we would receive was also a big surprise for us.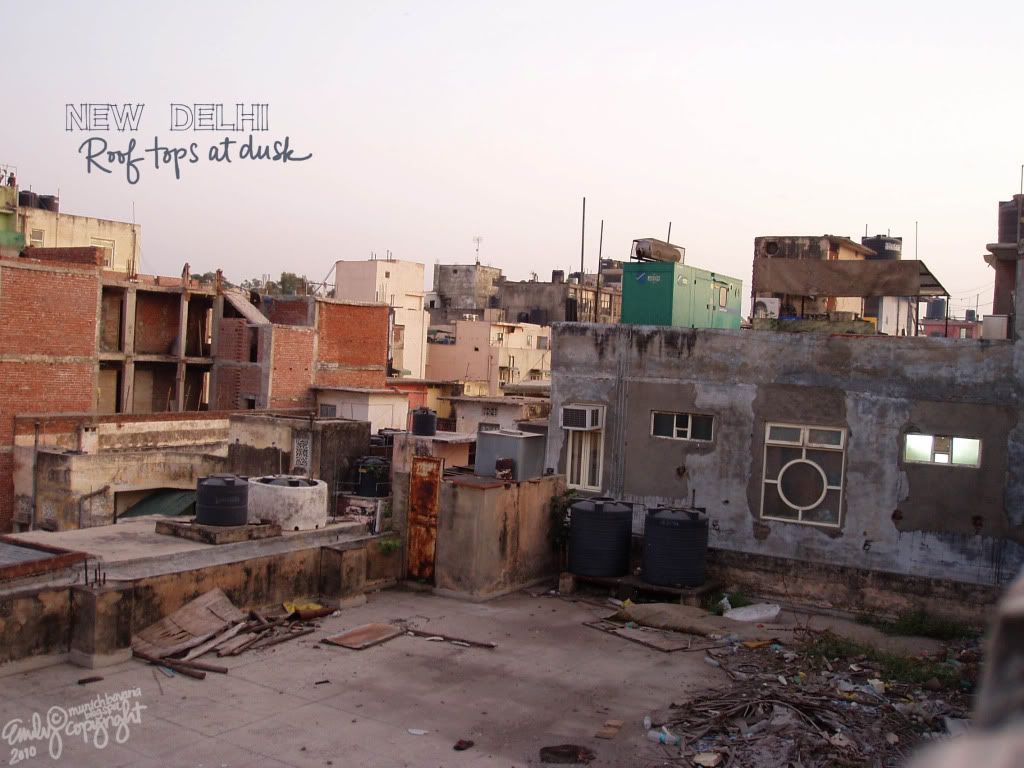 It didn't take long before we appreciated another luxury - trash service. The streets were littered with random detritus and I was happy to have worn closed toe shoes. In some areas animals of choice (usually dogs, cows, or pigs) would be scavenging for anything edible. We were faced with the reality that life here is incredibly hard for most.

Our first day in India was intense. We were jet-lagged, tired of sweating, annoyed at getting heckled, and feeling immense guilt for having more than the average person.

Reality check #3: Be grateful for everything... education, family, food... - EVERYTHING.