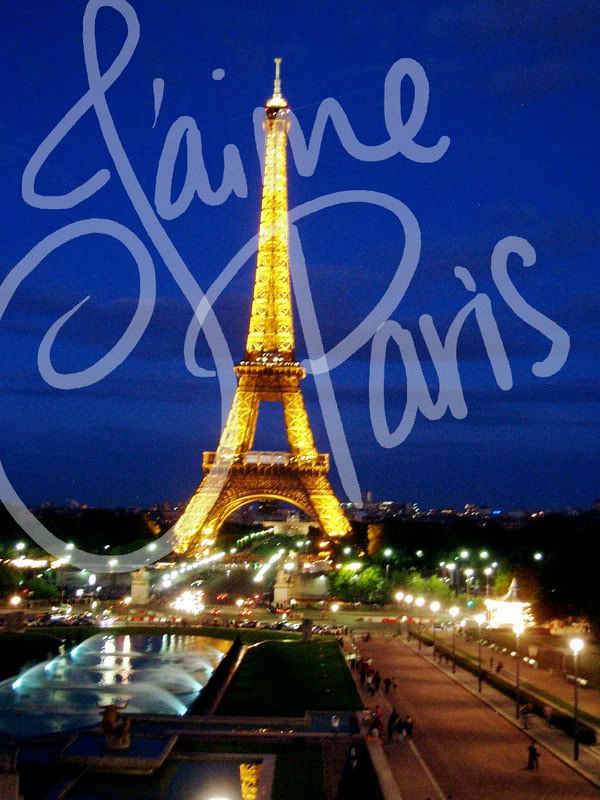 I was so surprised how quickly our one year anniversary crept up! We really had a great time in Paris (who couldn't?!), but the time went so fast. We were constantly on the move. I don't even think people who live there forever get a chance to explore everything. We did as much as possible and enjoyed the romance of Paris itself.

We did have a few hang ups -such as waiting inside the Notre Dame- for nearly an hour, thinking that tickets to the top were sold there. In actuality we were waiting for the gift shop to open. We ended up going outside and there was a huge line, so half of our morning was gone. Fortunately we stayed at this wonderful little hospital... yes, hospital, with a hotel on the top floor that was right next to it. From our small sky light we could see and wake up to the bells of the Notre Dame.

I quickly decided that my favorite time of day in Paris was early early morning, when no one was out and the streets were quiet.

Since our bus tour worked out so well in Barcelona, and gave us little to think about we opted to do the same tour in Paris.

Paris was much different than I anticipated. To say Paris is large is an understatement. We went to the typical tourist sites and visited the neighborhoods for a more intimate look at how the Parisians lived. I really expected to see well dressed fashionistas... perhaps they were on holiday, but I never saw someone that exuded style and elegance. I was also surprised to see the Gap and middle of the road shops on the Champs Elysees.

Our first night we went to the Louvre, because there wasn't much of a line and there was a light drizzle. I think the common theme to Paris was overwhelming. It's slightly discouraging to be in a city with so much art and history and know that it is not humanly possible to see and do it all.

We spent several hours there and were quickly ushered past the Mona Lisa. I was happy to also see the Venus de Milo and The Winged Victory of Samothrace. I'm sure it is this way whenever there are large groups of tourists, but it never ceases to amaze me how people love to break the rules or don't have etiquette on how to behave in museums or churches. There were cameras flashing and people taking out my personal favorite, the camera phone, to take photos (particularly at the Mona Lisa, where it is forbidden). We continued our tradition of purchasing a children's book (ok, so I bought 3!) at the Louvre museum le enfants shop.

Being so close to the Notre Dame we woke one morning quite early and were the only tourists there, which was very much appreciated. There were large Asian tour groups with children running wild and loud talking other occasions we visited. We were curious how they would respond if someone were to act similarly in one of their temples. Nonetheless we were awestruck by the beauty of the place.

The Eiffel tower was beautiful, particularly at night and with the sparkling lights on. I was happy to see it both in the day light from the Trocedaro and the neighboring park as well as at dusk and night. At night, the line was again not so long at night so we decided to venture up... we quickly learned why it wasn't so large - we had to walk. We didn't go up to the very top, however the view was still wonderful. It was probably good we had to walk because we ate nothing but goat cheese and baguettes and many pastries.




I fell in love with the La Fayette, a grocery downtown. We bought quite a bit of food there, which I really enjoyed.

My favorite areas of the city were Montmartre (home of the Moulin Rouge) and the quiet 5th + 6th arrondisments. They both had vibrant colors and narrow little cobble streets.

We decided to spend a day in Reims and visiting the champagne houses. I am so happy that we chose to do that. I was very anxious because we initially made plans to and needed reservations. Our second champagne house (Veuve Clicquot) was only available in German and Stefan saved the day by calling and getting us a tour.




Reims was also fascinating. We went to two champagne houses (Pommery + Veuve Clicquot) and they were uniquely different. We loved the chalk caves and seeing the process -- and of course the sampling! The town itself was still rebuilding from WWI. We stopped at what is now a high school where the act ending WWII was signed. It was amazing that it was not very long ago. This is also where the kings were cornoated, where Chagall has his beautiful windows, and where the one winged smiling angel greets guests at the cathedral.

Early on our last morning we finally got in line (the correct line) for our turn to see Paris from the Notre Dame. An Italian couple was trying with all their might to cut the line (there was a family of 4 in front of us and that was all). The ended up weasling in behind us and I found it so ironic that they would lie to get into a church.

After viewing Paris from above we checked out of our hotel and then went to share some celebratory champagne in front of the Notre Dame. We were both shocked to see so many people feeding pigeons and holding food in their fingertips for sweet little sparrows fluttering around. With bird flu being on the rise I couldn't believe people were so naïve. I guess that's why diseases like this spread… simply for the photo opt of children chasing birds or having sparrows flutter around your hands.

We enjoyed celebrating our anniversary and read our note cards that were written before our wedding and were to be opened on our honeymoon… we forgot and saved them for our one year anniversary. It was a nice way to share a special day.

After we were finishing our second tiny bottle of champagne the rain started and we headed into the subway. The ticket machine was broken so we learned a valuable lesson: buy all tickets needed for subways upon arrival! - As soon as Stefan left for coins (which also didn't work) a ticketing window opened. My suspicions were later confirmed that Charles de Gaulle is one of the worst airports I have ever been to in my life! But I'd go back, simply to be in Paris again. It's a place that grows on me.